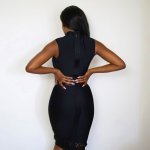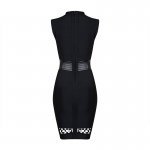 Velvet Bandage Dress Black
$116.11
Velvet is a lavish bandage dress, perfect for a night out in the city or a dinner date. With its bondage strap feature design at the front and bottom and with built-in leather waist band makes it simply amazing. Available in black or red.
– Dress Name: Velvet
– Dress type: Bandage dress
– Sizes: XS/S/M/L
– Weight: 807 grams
– Material:  90% Rayon, 9% Nylon, 1% Spandex / leather
– Colour: Black, Wine
– Dress feature: Leather, Cut-out
– Fabric feature: Anti-Static, Anti-Wrinkle, Breathable, Eco-Friendly
– Package includes 1 Bandage dress
Product Care
Wash inside out to protect the fibres against damage from the washing machine drum or from other clothes.
Hand wash separately in cold water and line dry. Please wash like colours only. For best result professional dry clean.