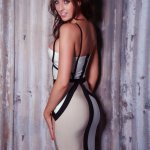 Fantasia Bandage Dress
$112.25
"Fantasia" is a dazzling and unique dress with its richly decorated patterns making it a stand out in the crowd. This stylistic asymmetry patchwork dress will bring out your bust and curves with the amazing design and bondage cut out shoulder strap while maintaining your elegance.
– Dress Name: Fantasia
– Dress type: Bandage dress
– Sizes: XS/S/M/L
– Weight: 807 grams
– Material: 90% Rayon, 9% Nylon, 1% Spandex
– Colour: Nude & White
– Dress feature: Asymmetry patchwork
– Fabric feature: Anti-Static, Anti-Wrinkle, Breathable, Eco-Friendly
– Package includes 1 Bandage dress
Product Care
• Wash inside out to protect the fibres against damage from the washing machine drum or from other clothes.
• Hand wash separately in cold water and line dry. Please wash like colours only. For best result professional dry clean.