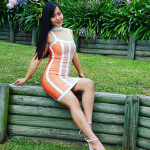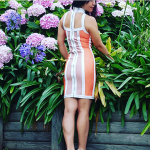 Miranda Bandage Dress
$92.89
"Miranda" is a sexy but simple colour blocking halter bandage dress. This dress will be suitable for all occasions. Perfect for those who love to be simple but still look fineee' and for those occasions you're not sure how to dress because you don't have a dress code and unsure if its dress up or dress simple, this dress is suitable for both categories.
– Dress Name: Miranda
– Dress type: Bandage dress
– Sizes: XS/S/M/L
– Weight: 807 grams
– Material:  90% Rayon, 9% Nylon, 1% Spandex
– Colour: White & Orange
– Dress feature: Halter, Color blocking
– Fabric feature: Anti-Static, Anti-Wrinkle, Breathable, Eco-Friendly
– Package includes 1 Bandage dress
Product Care
• Wash inside out to protect the fibres against damage from the washing machine drum or from other clothes.
• Hand wash separately in cold water and line dry. Please wash like colours only. For best result professional dry clean.